Thermodynamics and molecular simulations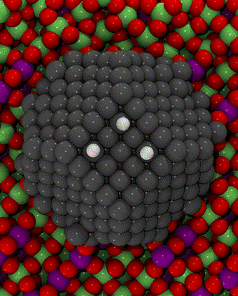 Research groups
Research groups in the area of thermodynamics and molecular simulations have a wide variety of interests spanning molecular to macro-scale phenomena in solids, soft materials, and biology. Both applied and fundamental in nature is being carried out.
Some of the key areas include:
a) multi-scale modeling scheme for compound semiconductors
b) rational solvent design for application to select the optimal solvent (or design a new solvent) for the extraction of a pharmaceutical intermediate synthesized using a biotransformation process
c) novel accelerated methods for studying dynamics and thermodynamics of complex materials
d) interfacial phenomena and self-assembly process occurring in chemical systems.
e) design and synthesis of porous material, superhydrophobic surfaces and confined and interfacial fluids f) non-equilibrium dynamics of dense suspensions and nanostructured materials
g) effect of anisotropies in the structure, phase behavior, and dynamics of soft condensed matter  systems. Polymer nanocomposites, Pickering emulsions, soft-penetrable particles, and surface-corrugated colloids are also current materials of interest.
Sub Research areas