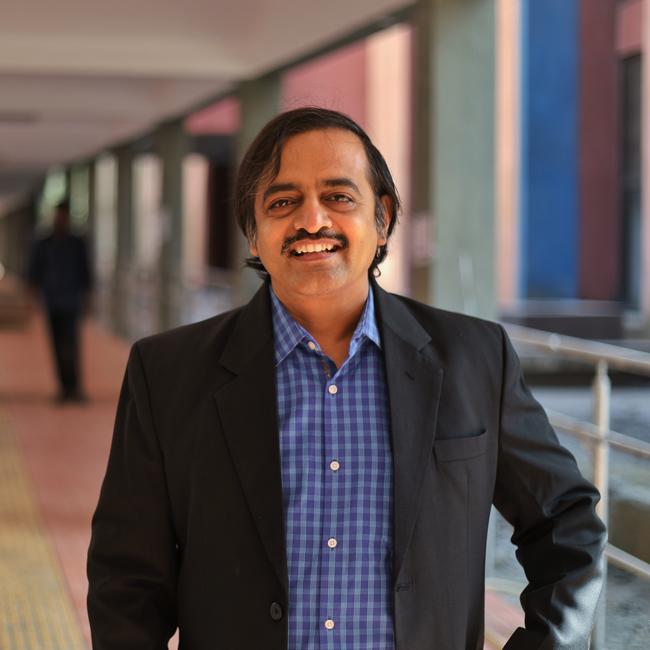 Designation
Professor & Head, Chemical Engineering Department, IIT Bombay
Full Name
Prof. Ravindra D. Gudi
Dr. Ravindra D. Gudi is a Professor & Head at Department of Chemical Engineering, Indian Institute of Technology, Bombay. He also holds the Institute Chair Position in Artifical Intelligence and Machine Learning. He earned his B-Tech and M-Tech degrees from IIT Bombay and a PhD from the University of Alberta (1995). His research interests lie broadly in process systems engineering & green engineering, i.e. modeling, optimization, control and fault diagnosis of process systems, sustainability in industrial practices.
Dr. Gudi has served as a Visiting Professor at the Department of Chemical Engineering, University of Alberta, Canada (1997), Department of Chemical Engineering, University of Wisconsin- Madison (2003-04).  Dr. Gudi has published over 135 scopus indexed  papers  and has 9 US patents to his credit,  in various areas of process systems engineering.
Dr. Gudi is a recipient of several awards including the Canadian Commonwealth Fellowship by the Government of Canada (1991-1995), Lovraj Kumar Memorial Award for promotion of Industry Academia Interaction (July1998 - January 1999), Manudhane Applied Research Award (2006), Herdillia Award for Excellence in Basic Chemical Engineering (2009). He has been an active consultant to the industry in India and abroad. He is also currently the President of the Automatic Control and Dynamic Optimization Society of India.
Patents
Model Maintenance Architecture for Advanced Process Control, US Patent, (USPTO Filed 2006).

Decomposition of Nonlinear Dynamics Using Multiple Models and gap metric. Filed (USPTO Filed 2007).

A novel approach to batch classification & performance monitoring, (USPTO Filed 2008).

A method for early detection and diagnosis in batch processes (USPTO Filed 2008).

A System for Monitoring Color-less Emissions from Flare Stacks using IR imaging (USPTO Filed 2008).

Computer evaluation of crop related industries (USPTO Filed 2008).

Efficient Production of Fuels from lignocellulosic Resources (Filed 2009).
Book Chapters
Rao, M.S., Patwardhan, S.C. and Gudi, R.D., "Nonlinear Predictive Control of Irregularly Sampled Data Systems Using Identified Observers", In: Assessment and Future Directions of Nonlinear Model Predictive Control", Lecture Notes in Control and Information Sciences, Springer Verlag, (2005).

Kotecha, P.R., Bhushan, M. and Gudi, R.D., Constraint Programming and Genetic Algorithm: Sensor Network Design Optimization, Stochastic Global Optimization: Techniques and Applications in Chemical Engineering, edited by G.P. Rangaiah, Book accepted for publication by World Scientific. (2008).
Journal Editorships
Associate Editor, Journal of Process Control (IFAC), (January 2010 onwards)

Member, Board of Editors, International Journal of Biosciences and Technology (2008 onwards)

Guest Editor for Control Engineering Practice
Sponsored Projects
Principal Investigator in the Project on Control Relevant Identification of Chemical Processes sponsored by the Department of Science and Technology (1999-2001).

Fault Detection and Diagnosis in Complex, Integrated Power plants , Sponsored by Board of Research in Nuclear Sciences (2003-2005)

Airship Design and Development, Sponsored by Technology Information Forecasting and Assessment Council, Govt. of India, (Involved as Project Director of Control Systems) (2004-2006)

Optimization of performance of integrated fuel cell reformer system, Sponsored by Naval Materials Research Laboratory, (2006-2009).
Consultancy Projects
Principal Investigator in the project on Soft Sensor Identification Tools sponsored by Tata Honeywell Limited Pune, (2000-2003)

Technical Lead in the project on Development of a Generalized Reactor Model sponsored by Universal Oil Products, USA, (1998-2001).

Principal Investigator in the project on Curtailing Desorbent Losses in Extract and Raffinate Columns sponsored by Reliance Industries Limited, (1997-1998).
At Engineers India Limited and CAD Centre
Team Member in the project on Process Simulation, Data Reconciliation and Optimization of Froth Flotation Circuits at Hindustan Zinc Limited, Udaipur (1987-89)

Team Member in the project on Ammoniacal Leaching of Manganese Nodules: In-house development for the project sponsored by Department of Ocean Development, Government of India, (1988-89)

Team Member in the project on Model Predictive Control of Batch Processes: In-house Development at CAD Centre, IIT Bombay, (1990-91).
International Program Committee Memberships
Industrial Liaison, ACODS'2020, To be held at IIT Madras, Feb (2020)

Member, International Program Committee, IFAC Symposium on Adaptive Control of Chemical Processes (ADCHEM'12), Singapore, July (2012)

Member, International Program Committee for International Conference on Advanced Control of Industrial Processes (ADCONIP'11), China (2011)

Associate Editor, International Conference on Dynamics and Control of Process Systems, (DYCOPS, 2010),  Leuven, Belgium (2010)

Member, International Program Committee for the International Conference on Advanced control of Industrial Processes, (ADCONIP'08), Canada, 2008

Member, National Organizing Committee, 2nd National conference on Instrumentation and Control, NIT, Tiruchirapalli, December 14-16, 2005

Member, International Program Committee for the International Symposium on Dynamics and Control of Chemical Processes (DYCOPS'04), Boston 2004

Organizing Secretary, International Symposium on Process Systems Engineering and Control (ISPSEC'03), held at IIT Bombay, Mumbai, January 3-4, 2003

Member, International Program Committee for the International Conference on Computer Applications in Biotechnology, Quebec, Canada, June 2001

Member, International Program Committee for the IFAC Symposium on Adaptive Control of Chemical Processes (ADCHEM'97), June 1997, Banff, Alberta, Canada