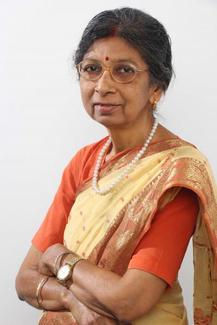 Location
302, Chemical Engineering
Mamata Mukhopadhyay
Emeritus Fellow
Professor
Download Curriculum Vitae (CV) PDF
Background
B. Ch. E. Chemical Engineering Jadavpur University Calcutta 1963.

M. Tech Chemical Engineering IIT Kharagpur 1965.

Ph. D. Chemical Engineering Ohio State University U.S.A. 1969.
Awards & Fellowships
The Acharya P.C. Ray Award by the Indian Institute of Chemical Engineers in 1964 for the Final Year. B.Ch.E. Design Project.

The NOCIL Award by the Indian Institute of Chemical Engineers (IIChE) for Excellence in Process Plant and Equipment Design in 1997.

The Suman Sharma National Design Award by the Institution of Engineers (India) for the performance as the Best Woman Design Engineer in 1999.

Dr. P.K. Patwardhan Award for Technology Development and Transfer in 2001.

The Best Ph.D. Thesis Supervised Award by the International Society for Advancement of Supercritical Fluids (ISASF) France in 1996.

The Herdillia Award for Excellence in Basic Research in Chemical Engineering by IIChE for the Year 2005.